Vintage Wines
I now have a large number of vintage wines, from a collector that bought directly from the winery to his Cellar, kept in perfect conditions. He has decided to sell all of his cherished wines and not ship them to California, due to expense and hot conditions.
This is an extraordinary assortment of Producers and vintages: Leonetti, La Joya, Sherwin Family Vineyard, Ristow, Hafner, 2 bottles of 1988 1st Growth Chateau Figeac Bordeaux, Paradigm, Silver Oak, 6 bottles of Robert Mondavi 1996 Reseve Cabernet Sauvignon, Cyrus, and a few others. 1 Bottle of Louis XIII Cognac ( because of it's rarity is not available for casual viewing, please make an appointment to view).
These wines have all been inspected by a certified Sommelier, for authenticity and correctness, not from a gray market, (second, third, fourth party). One owner, with great tastes for California premium Cabernets.
Also available: a 550 bottle wine storage wine cooler, measuring 87″ tall x 50″ wide x 30″ deep. An exceptional value at $3,500, new $7,000.
No phone calls on these items, first come, first to acquire these fine wines.
A Great opportunity to experience wine of a high caliber.
 The wine cabinet, and all wines have been sold. 10-7-17
*****************************************************************************************
1-29-16
Just 5 bottles of Force Majeure Collabortation V remaining. 
Winemaker: Chris Gorman, 100% Cabernet Sauvignon, inspired by the great wines from the left-bank of Bordeaux, All Ceil Du Cheval vineyard, Red Mountain.
*************************************************
Coming in Janurary 2015, the Black Door Wine Company Wine Club!
***************************************************
Big Reds tasting with Sommelier Dorian Wood
December 13, 2014
********************************
11-17-14
Saturday 11-22-14
Alsatian wines, (Northeast France) with Sommelier Dorian Wood
Finger Lakes Riesling (upper New York State)
5:00p-7:00p Tasting fee $5.00
********************************************
11-5-2014
Black Door Wine Company's 3rd Annual Select Champagne and Sparkling Wine Event
Experience the Effervescent Sparkle of Bubbles, Bubbles and More Bubbles on November15 , 2014 at BDWC to Open the Holiday Season.
Our Champagne is carefully selected for our holiday portfolio. We focus our tastings on Grower Champagne from the farmers who own their land & grow their own grapes, tend their vines and producing each Champagne bottle by hand following rules of secondary fermentation and in small production. Champagne is a single appellation d'origine contrôlée. As a general rule, grapes used must be Pinot Noir, Pinot Meunier & Chardonnay grape varietals.
At the tasting enjoy our selection of Cava, the Catalonian sparkling wine produced like Champagne in the champenoise traditional method with different grapes (Macabeu, Parellada &Xarel·lo) creating a simple balanced & fruity sparkling wine at a quality price point.
We'll also enjoy tasting Prosecco, the Italian sparkling, generally dry or extra dry produced in the Charmant method of fermentation in steel tanks. Prosecco has been described as intensely aromatic and crisp, bringing to mind yellow apple, pear, white peach and apricot unlike Champagne in its rich taste and secondary aromas.
Arrive thirsty to enjoy some bubbles……..Cheers!
Venue: Black Door Wine Company
Address: 3906 N. 34th St.
Tacoma, WA 98407
www.blackdoorwinecompany.com
Contact: david@blackdoorwinecompany.com
Phone: 206-359-0466
Date: November 15, 2014
Time: 4:00PM – 7:00PM
************************************************
8-28-14
First ever south sound Sake tasting with Sommelier Avery Genge,
September 6, 2014 5-7 pm
Avery will us teach how, where and quality classifications of Sake, taste 8 different styles of this interesting and delightful wine, this is limited to 16 persons so please RSVP or david@blackdoorwinecompany.com, only 6 seats left!or 206-359-0466
$20 person
8-22-14
Domaine Baumard Savennieres 2009
Tucked away in the village of Rochefort-sur-Loire, just south of the town of Savennieres is Domaine des Baumard. Founded by the Baumard family in 1634, the estate is considered a reference point for Savennieres and the sweet wines of Coteaux du Layon. Currently managed by the third generation of the family, Florent farms in an organic manner and believes in minimal intervention in the vineyard and in the cellar. Yields are kept low (generally 1.5 -2.5 tons per acre) and the grapes are hand-harvested and pressed as quickly as possible to preserve freshness and aroma. Starting with the 2005 vintage, Florent bottled all of his wines (except the Cremant) with Stelvin closures. "Florent Baumard is a brilliant winemaker. If he had been born a Californian, Burgundian or Bordelais, wealthy vineyard owners would be standing in line to employ his services as a consultant…a young, handsome, ever-smiling sort, Baumard quietly fashions some of the world's most complex dry and sweet wines in the sleepy village of Rochefort-sur-Loire." ~ Pierre Rovani, Wine Advocate
The Savennieres is a dry, honeyed white of unmatched concentration, perfume and longevity.
$24
8-15-14
Broaden Your Tastes and Trust Your Wine Merchant
What we're drinking right now: La Croix Chaptal Les Terrasses 2007
This is a wine from the Languedoc, south central France. The vineyard of this winery was established by the Romans in 800, the winery in 1875. This's a medium bodied wine made of 45% Carignan, 45% Grencache, and 10% Syrah. On the palate: Cherries, Mocha Coffee, Provencial herbs, ready to drink now with pleasure. At $12 I strongly suggest buying a case! 6 cases left.
8-4-14
Great summer wine!Orizzonti Pinot Grigio 2013 Pairs well with most summer grilled foods, salads. $10
7-29-14
A very special offer
Bond has set out to create 5 Grand Crus of Napa Valley, making only 3,000 cases total of all 5 Crus from very small lots of the very best vineyards in the Napa Valley AVA. These wines are sold to clients around the World and so will most likely be gone before long. The winery says it best: Sourced from select hillside estates, the Cabernet Sauvignon-based wines of BOND vividly demonstrate the range of Napa Valley's finest terroirs. From the more than sixty vineyards we have worked with over the past quarter century we have slowly and vigilantly selected five sites. BOND became our covenant and shared commitment to produce only the best expression of the land. Early in our winemaking partnership, before the advent of Harlan Estate, we worked with over sixty top growers and vineyards throughout the Napa Valley. By way of this valuable experience, we had the opportunity to identify select properties that we felt had the potential to define the "Grand Crus" of Napa Valley. These small, hillside Cabernet vineyards, ranging in size from 7 to 11 acres became the basis for the wines of BOND. BOND: A portfolio of wines that are diverse in their geographic representation and 'Grand Cru' in quality, all under the umbrella of one philosophy, one team, one mark.
2010 Bond "Pluribus" Napa Valley Bordeaux Blend vertical
98 points Antonio Galloni
 Graphite, smoke, savory herbs, tobacco and licorice all meld together in a huge, powerful, structured wine. Layers of fruit cover every inch of the palate in a dark, brooding wine endowed with serious intensity. Today, the 2010 is absolutely striking in its beauty. Always a big, tannic wine, the 2010 Pluribus is one of the most elegant and refined Cabernet Sauvignons I have ever tasted from this site. The intensely savory, mineral notes typical of the wine are there, but the 2010 also has a level of purity in its fruit that is striking. This is a stunning wine from BOND. 
 (11/ 2013) 97 points Robert Parker's Wine Advocate
 The 2010 Pluribus reveals classic notes of blueberry and mulberry fruit intermixed with hints of violets, incense and licorice. The striking aromatics are followed by a full-bodied, dense, supple-textured, multidimensional wine that should drink well for 25-30 years. (RP) 
 (10/ 2013) $400 per bottle/3 bottle vertical '08, '09, '10
7-23-14
In store now:
Fedriani Laffite, I can always justify a good wine by it's quality price ratio and  popularity. This is one of those wines at just $13! Spanish
A Sarah 90% and Bobal 10%- Fedriani Laffite is dense, chewy, palate-painting, meaty, fleshy, and – for all that – graceful, in a strange way that conjures up images of the dancing hippos in "Fantasia". The texture is lush and unctuous and glycerine-ish. The flavors run heavily to the bass end of the Syrah harmony: blackberries, currants, dried figs, espresso, black pepper, Bing cherries, Black Amber plums, dark chocolate, stones, leather, and cola syrup. Grace notes of blueberries, sea salt, cloves, and woodsmoke float on that 30-weight slick and make this a truly compelling wine to just sip and appreciate.
And it's going to get better……………………….
Coming soon it's bigger brother, incredibly the wine get's another wonderful dimension here,  a somewhat surreal, Merlot and Bobal blend that you have to try, and at $25, buy a case (six pack in a wood box and $22.50)
 ****************************************************************************
7-19-14
This Saturday-Pinot Gris 5-7pm
Sauvignon Blanc tasting Saturday, August 9, 2014 5-7pm
$5 tasting fee.
Styles
Crisp – Lively and refreshing with loads of fruit flavors
Elegant – Crisp, yet round and complex, layers of flavors
Oak – Influenced by oak aging with hints of smoke and vanilla
We'll be tasting through 5 different Sauvignon Blancs from around the World.
Sav. Blancs are a favorite summer wine, pairing well with seafood, salads.
******************************************************
We have more than 25 wines starting at $8 and under $15, wines we endorse and drink everyday! Quality with intension.
New wines arriving this week:
Former wine maker at  Pahlmeyer Winery in Napa Valley, helping make one of the finest new world interpretations of a Bordeaux blend. Though he loved his work and the wine, he could not turn down the opportunity at Pamplin Family Winery to pursue his vision of creating perfection in a bottle with Washington State fruit. The wine, a Bordeaux style of Cab. Sav. and Merlot, Natural fermentation (no inoculated yeast), hand sorted with meticulous attention to detail at every stage. They make only two wines, so the wines get plenty of detailed attention. We've tasted this wine and found quality, price perfect. My opinion is this is a winery to keep an eye on! 2010 J|R|G~Red Blend $30
Manu Propria BLEND | 88% Cabernet Sauvignon | 9% Merlot | 3% Cab Franc
2011 EX ANIMO
from the Latin meaning, "from the heart", is a single vineyard statement to celebrate and exemplify Red Willow Vineyard.
TASTING
Aromas of wet tobacco, black pepper, eucalyptus and fresh thyme are wrapped in subtle layers of blackberry and anise. $35  185 cases made ~A new Morgon Beaujolais, as you may or may not know, we are big fans of Cru Beaujolais! $20
6-5-14
 Year Vintage
2013 sees the celebration of 500 years of the Mellot family! To celebrate this, Catherine Corbeau Mellot wished to honour past generations by creating a special « 
 year » vintage.
To celebrate this longevity, she decided to contact a fine arts and graphic design college, the ESAT (Ecole Supérieure des Arts et Techniques) in Paris, with a view to holding a competition. The aim? To design an original bottle covering embodying the Estate's values and universe. The prizewinners from the ESAT based their work around the core values of the Joseph Mellot Estate of seriousness, timeless elegance and a respect for the local land. Therefore the students offered labelling with chic modern graphics, symbolising the mineral world which dominates the style of Joseph Mellot wines. The Sancerre Blanc « 
 year » vintage is the result of a 2012 crop of grapes from a plot of land situated on the south east-facing hillside, looking over towards the Loire, in a flint-rich vineyard, typical of Joseph Mellotwines. It will be bottled in an original bottle depicting the topography of Sancerre. This vintage is a symbol of the hard work of past generations, and also a mark of gratitude to those who strive to carry on this history. Released as a limited series of 5,000 bottles. It will be launched during the month of June 2013. Tasting: lemon citrus, with a hint of spice, balanced minerality, faint pear richness, well rounded, long finish.
Do I need say more?
$50
****************************************
5-23-14
A "Gem" of a find! Toschi 2010 Merlot, California We're completely surprised by this $11 Merlot. Flavors of berry and currant balanced with oak and spice. Buy a case for $10 a bottle, now that's a bargain.

*******************************************************
5-22-14
Please join us for an around the world Chardonnay tasting featuring some of the best French, California, Washington and Oregon.
Black Door Wine Company – Around the World Chardonnay Wine Tasting

Chardonnay is the most diverse –and most planted– white wine grape in the world. If you like the idea of butter in your glass, you'll love the classic style of oak-aged Chardonnay wine. On the other hand, if like green apple,  and lemon, then your perfect Chardonnay is un-oaked. How can a single grape offer such a variety of flavors? We'll discover how terrior of place offers different styles of wine from the Chardonnay grape at this tasting
and pinpoint the one that's perfect for you.
Our Tasting:
Silver Label North Coast Chardonnay 2011 – Sonoma Valley, CA- good weight and experienced winery.
Darioush Signature Chardonnay 2012 – Napa Valley, CA- a classic buttery Chardonnay, not easy to find, this is a jem!
.
Belle Pente Charonnay Belle Pente Vineyard  2007 – Carlton, OR- cooler climate, Burgundian style.
Brick House Cascadia Cardonnay Ribbon Ridge 2009 – Newberg, OR- Burgundian style.
Tranche Chardonnay Celio Vineyard 2011 – Columbia Gorge, WA- has a Montrachet like quality. 94 pts. WA
Patrick Piuze Chablis Vendanges 2011 – Chablis, France- Originaly making wine for a Primere Cru Chablis house, a good weight, it's about the place, minerality. One of our personal favorites.
When: May 31, 2014
Time: 5:00 – 7:00 PM
Location: Black Door Wine Company
Address: 3906 N. 34th St.
Tacoma, WA 98407
Tasting Fee: $5.00
Please wander to the garden behind the store after the tasting!
**********************************************
5-14-14
Time for Rose!
And with  25 different Roses to choose, find your style and chill out.
What we're drinking right now! Rosamarconi, Twelve A luscious Nebbiolo, deep dark mahogany color, dry, a richness of raspberries, chilled all the better! $10
******************************************
5-9-14
Just in
Bright chocolate, blueberry, and black pepper aromas with a silky fruity-yet-dry medium-to-full body and a smooth, seamless finish with hints of spiced apple and earth. A flexible all purpose wine. $16
Highly recommended!
Do it for Mum!
******************************************
May Day
Sonoris
Sonoris Wines was founded in January of 2011 by acclaimed winemaker Hillary Sjolund. At twenty Sonoris winemaker Hillary Sjolund started out as a premedical student at U.C. Davis. One of the prerequisites was to take a class in the agricultural division. Sjolund's choice? Introduction to Winemaking. It would be a fateful decision. She would go the path of least resistance.
Gaining experience at Pine Ridge (Napa), Distefano, she created wines with 90 plus scores. Her training then continued in Chile , then hired at Distefano in Washington State in 2006..
Intent on making her own Washington wines, she uses grapes from the Red Mountain AVA and other select vineyards throughout the Columbia Valley. Hillary makes wines that are technically balanced and unique, with her acute sensory dial focused on aroma and flavor and requisite vineyard site selections, she is making an expressive style of wine.
Burney's Blend 2008: An aromatically appealing wine with high toned dried herbs, pencil lead, and cherry. The palate has a mixture of boldness and restraint with the tannins just a touch dry. 94% Cabernet Sauvignon (Blue Mountain), 3% Merlot (Weinbau), and 1% Petit Verdot (Dionysus). Aged in French oak (30% new). 14.8% alcohol. 198 cases produced. $34
This is an integrated wine that is super drinkable now.

*****************************************************
4-30-14
Just arrived at Black Door….
Antico Colle Vino Nobile di Montepulciano
2010 Italian Sangiovese
A harmony of lightly toasted oak, lavender and dried figs invite the experience. Lingering flavours of ripe cherry and Summer herbs with balanced acidity. Wine Enthusiast "93 points" 100% Sangiovese $28 Also: TRANCHE The 2011 Chardonnay comes from a dry farmed vineyard located on the Washington/Oregon border, in the Columbia Gorge AVA. Spending 12 months in 40% new French oak and with Montrachet-like richness and depth, it's loaded with ripe apple, citrus, mineral, toasted nut and brioche aromas on the nose. This flows to a medium to full-bodied Chardonnay that has gorgeous mid-palate depth, awesome precision and purity, and a blockbuster finish. A total gem, it should shine for 4-5 years. Drink now-2018." $46 Wine Advocate 94 pts.

*************************************************************************
4/26/14
Preparing for our Sherry Wine Tasting todaythat starts at 5:00p. Come by anytine between 5:00 and 7:00p to taste Lustau Sherry and light tapas!



4-15-14
Tasting Corlis 2007 RED BLEND
It is a mantra of mine to suggest that everyone taste every wine they can to develop their palette – especially if the wine has some age.
This Corliss 2007 vintage tasted fresh black cherry with good acidity Oh my! What a lovely balanced Washington wine in a Bordeaux style.
We will carry the 2009 Corliss RED BLEND Fall of 2014 (the 2008 vintage is sold out!) (aged in 80% new oak for 33 months): Redcurrant, raspberry, cedar, flowers and burnished oak scents on the nose. Sweet, intense and rich, with cassis and spicy oak flavors saturating the mouth. Finishes very long, with broad, dusty tannins and outstanding spicy persistence. The results are there for you to taste. Corliss wines are powerful, yet refined, with beautiful delineation of detail from first sniff to last swallow. They have the richness and structure to age for decades, yet are beautifully complex, supple, and delicious to drink when first released.
Michael Corliss has, from the beginning, been at the center. He is engrossed in every detail and has guided the winemaking philosophy. He is the barometer of consistency for developing the Corliss style. Surrounding Michael is a talented staff of winemaking professionals including on-site winemaking team of Andrew Trio and Griffin Frey who bring experience and perspective from Napa, Europe, and Australia.  They are joined by Philippe Melka, who is one of the world's most highly regarded winemaking consultants. Working together, they dedicate their best efforts with every vine, every grape and every bottle .
4-14-14
Lustau Sherry Tasting at Black Door Wine Company
Warning! Black Door Wine Company is ready to ensure the popularity of Sherry wine in the South Puget Sound.
Sherry is wine very distinctive due to its aging and fortification process. Become friends with the flavors of Sherry and you will be richly rewarded.
Please join Black Door Wine Company to learn about the Lustau portfolio of Sherries. We will guide you through an experience tasting Sherries to become educated and richly rewarded.
Sherry wines are aged above ground in beautiful Bodegas , and the winemakers use a solera system to blend the youngest to oldest. Sherry is made Jerez de la Frontera in SE Spain.
$10.00 per person, $15.00 per couple includes Spanish food pairing
When: April 26, 2014
Time: 5:00pm – 7:00PM
Where: Black Door Wine Company
Address: 3906 N. 34th St.
                Tacoma, WA 98407
4-7-2014
New in Store
Some of the wines we're enjoying this week:
2011 Crozes-Hermitage (northern Rhone)

Traditionally, Domaine Alain Graillot harvests by hand and works organically, employing whole-cluster fermentation and aging the wines primarily in one to three year old barrels purchased from some of the top estates in Burgundy. Graillot's wines are structured, but still very appealing and approachable in their youth, and their longevity is unmistakable.
| | | |
| --- | --- | --- |
| | 2011 Alain Graillot Crozes-Hermitage Alain Graillot100% Syrah from Graillot's 18 ha of vineyards in Crozes-Hermitage. The soils are gravel and old alluvium. Like all of his wines, grapes are hand-harvested and farmed organically. Graillot ferments with stems for added structure and complexity. Additionally, he uses pump-overs in order to carefully integrate oxygen into the wine.Dark red colour with purple. Nose with blackberries, some liquroice, slightly flowery with violets, cloves, some animal notes including meat juices, and something that feels a bit like iron filings. Rather typical Northern Rhône Syrah nose. Medium bodied, dark berries with tart berry notes, good acidity, medium tannins, some tannic bite in the aftertaste. Rather young, but drinks rather well now.$29 | |
Bodegas López de Heredia Viña Tondonia

A little about the winery:
For a hundred and thirty one years, three generations of the López de Heredia family have devoted themselves to producing exceptional and unique wines. Masterpieces which have achieved that which the founder of the company, Rafael López de Heredia y Landeta, defined in the late nineteenth century as the "Supreme Rioja". Vineyard care, a scrupulous selection of grapes, ageing in oak barrels in the heart of deep underground galleries, and the later ageing in bottles, all contribute to making these illustrious wines with their exceptional bouquet. I probably don't need to tell you that 2001 is one of the best vintages Rioja has ever seen. And I probably don't need to tell you that Lopez de Heredia is one of the greatest bang for your buck producers in the whole world—I've raved about this vintage and this producer before—but I will tell you that if you haven't caught the Rioja bug, this is your one-way ticket to Tempranillo nirvana.
The wines: Tondonia, Tempranillo (75%), Garnacho (15%), Graciano and Mazuelo (10%), all from their estate  vineyards.
Cubillo, Tempranillo (65%), Garnacho (25%), Mazuelo and Graciano,  all from their estate vineyards. These are structured, complex wines, not the big robust or huge fruit. Wines made with thought and time, generally not released for  7 years. Given the history, the provenance, and incredible dedication to make these wines, they could easily be in the stratosphere price category! 375ml bottles are $28 and $20. What a great experience for the money, I also have magnums available if you need to really impress your dinner guests.
*************************************************************************************
3-29-14
Tasting now…………..Sherry
Lustau Amontillado, Los Arcos
This wine, partially aged under a veil of yeast like the Finos (the biological process) completes its ageing without  the yeast (oxidative process). Amber in colour with a nutty aroma on the nose. Light, soft and round on the palate, with a long aftertaste.
A most unusual process of making these wines:
All Sherries are made by means of a system of different casks named "solera". Sherry has a unique characteristic in which it adopts the qualities from the oldest wine once they are combined. The solera system has been developed to benefit from this. The extraction of wine for expedition comes from the "solera" (the oldest tier of wine) and must be replaced with the same amount of younger wine from the first criadera (Spanish term that translates as "nursery"). In turn, this wine must be replaced with a wine from the second criadera, replaced in turn with the young wine named "sobretabla". This way, each wine cask is "rociada" (washed down) at least three times a year.
No other wine is combined in this way. It takes at least four years to reach the necessary age in the solera before the wine is sent for bottling.
$17
Sherry is produced in a variety of dry styles made primarily from the 
Palomino
 grape, ranging from light versions similar to white table wines, such as 
Manzanilla
 and 
Fino
, to darker and heavier versions that have been allowed to oxidise as they age in barrel, such as
Amontillado
 and 
Oloroso
. Sweet 
dessert wines
 are also made, from 
Pedro Ximenez
 or 
Moscatel
 grapes, and are sometimes blended with Palomino-based Sherries. The word "Sherry" is an 
anglicisation
 of Xeres (Jerez). Sherry was previously known as 
sack
, from the Spanish 
saca
, meaning "extraction" from the 
solera
. In Europe, "Sherry" has 
protected designation of origin
 status, and under Spanish law, all wine labelled as "Sherry" must legally come from the Sherry Triangle, an area in the province of 
Cádiz
 between Jerez de la Frontera, 
Sanlúcar de Barrameda
, and 
El Puerto de Santa María
. Southeast Spain, with an influence of the Atlantic ocean, which actually plays it's part with it's salty breezes that literally are allowed to flow through the Bodegas (winery). In 1933 the Jerez 
Denominación de Origen
 was the first Spanish 
denominación
 to be officially recognised in this way, officially named 
D.O. Jerez-Xeres-Sherry
 and sharing the same governing council as 
D.O. Manzanilla Sanlúcar de Barrameda
.
**********************************************************
Black Door Wine Company attends an event at The Whale Wins and The Barnacle in Seattle!
Black Door Wine Company had the opportunity to be invited to tastings at two of Seattle now renown resturants: The Whale Wins in Seattle's Freemont, this was Chateauneuf-du-Pape selections tasting and The Barnacle in Seattle on Ballard Ave NW in Ballard to taste a flight of Sherrys.
Renee Erickson is nominated as best Northwest Chef for 2014, Barnacles and Whale Wins!
Drawing inspiration from the cuisine of some of Renee Erickson's favorite places in southern Europe and England, The Whale Wins' wood-fired, vegetable focused menu will feature the very best foods from local beaches, gardens and farms prepared simply and served casually in a lively, light filled, cottage-like space. "Piles of delicious, ripe, seasonal vegetables, wood oven fired meats and fish, and pickled treats–favorites from my childhood and my travels–will be displayed in abundance and served to share in a bright, beautiful setting" Renee Erickson explains. *************************************************************
3-19-14
Tasting right now:
Cloudlift Chardonnay- this's a Chardonnay that will change your idea from any you've had before! And it's a Washington Chard.!
The 2012 Chardonnay "an aromatically appealing wine with light toasty spices, tropical notes, pear and buttered acorn squash. The palate is creamy and textured with a rich feel while still retaining a sense of lightness with a straw-filled finish. A highwire act." A winemaker to watch evolve. Winemaker Tom Stageland is a fine furniture maker during his real job, and the wines show the detail orientated nuances reflecting in his wines.
$21
3-13-14 BDWC is drinking right now………..just a few allocated cases in the store!  
Pale reddish pink color. Bright aromas of strawberry preserves and buttercream with a crisp, effervescent, tangy medium-to-full body and a mouthwatering lemon curd and Creme Anglaise accented finish. A delicious, appetizing sparkling wine. $12 *********************************************************     A most unusual, delicious White Pinot Noir!
2009 Anne Amie Prismé Pinot Noir Blanc Willamette Valley AVA Production 404 cases $45.00 Prismé is the truest expression of the Pinot noir grape.  Selected only from the  finest blocks of Pinot noir and gently press the grapes, liberating the free run juice, but not the color or tannins from the skins. It is then barrel-fermented, and aged on its lees in French oak barrels for 18 months. This structured white wine has a backbone of acidity, a voluptuous mid-palate and a long, creamy finish. Prismé is named after the word prism- the splitting of white light into its corresponding colors. Here they are doing precisely that in reverse, making a rich, textured white wine from Pinot noir.
AROMA: caramel, ripe fig, white flowers, honeysuckle, white pepper, crème brulée FLAVOR: ripe peach, shortbread, ginger, white raisin, nutmeg, lemon, toasted marshmallow FINISH: long, rich
**************************************************************
2-27-14
A serious collectors bottle. 3 Liter! Large format age longer, better.
This is the Wine of the year, 2013: Cune  2004 scoring a 95 points from Wine Spectator, the 750 ml 2004 is sold out!
 (Compañía Vinícola del Norte de España)
Actual name of the winery, or Cune
This is a 3 litre which there are only maybe 10 in western Washington. The wine comes in the winery s wooden box. Cune has been making wine for 125 years and owned, operated by the same family. Typically considered an old world style. Gran reserva, for those of you who are not familiar with the term, is the top wine classification of the Rioja region. A wine that has been aged for five years, a minimum of two in oak and a further three in bottle. This wine is already over ten years old.
$675.00
This wine was named #1 on Wine Spectator's Top 100 Wines of 2013. "Firm and a bit austere, this red shows depth and drive, with chewy tannins supporting plum, tobacco, licorice and mineral flavors. The structure is solid but the wine remains fresh. Maturing now, this has a long life ahead." Reviewed by: Wine Spectator – 95pts I also stock a few bottles of the 750ml, 2005 at $52 Great accolades are said about the '05 as well, Cellar Tracker scores are 93 points for the 2005! ***********************************************
2-20-14
NV Olivier Morin Cremant de Bourgogne Rose "Tentation" Our new favorite Cremant (Champagne style)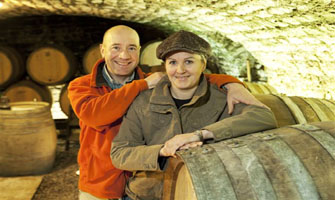 If we're going to drink Cremant de Bourgogne, it's not a bad idea to drink one made from a region as close to Champagne as any other in France. Chilly Chitry seems tailor-made for sparkling wine, if this bottle is any indication. It's 100% Pinot Noir, a sparkling version of something like "Chablis Rouge" in a fantasy world where the French authorities would allow such a thing. The fruit profile is red, with notes of black cherry and strawberry lifted by floral cherry blossom notes and complicated by dark earthy Pinot tones. A bit late for Valentine's Day (sorry, lovers), this will nevertheless make a brilliant fizzy pink through Easter, summer, and the remainder of the year. Highly recommended!
$19 a bottle -$17.10 per bottle case discount
**************************************************************
2-15-14
I love Barberesco for it's rich, tary, complex depth, that comfort food type of wine, most of the time it's $35 plus. So, when I had the opportunity to grab this sound, reasonally priced Barberesco I didn't think twice nor would you! Good, or great Barberesco is usually $35 plus when you find one, ours is just $25
This winery has made wine for nearly a 100 years! 

"This is rich and deeply scented, with notes of cherry and licorice and hints of flowers. Round on the palate, with a bright structure and refined tannins. Should come around soon. Best from 2014 through 2025. 2,000 cases made." -Rated 90, Wine Spectator
By the bottle, $25, by the case $22.50 a bottle
Wine makes a great gift, corporate or individual. Certificates are available in any denomination!
Hundreds of wines, Local, Regional, World wide. From every day Nebbiolo to rare finds. We've got you covered, and with our known service and wine knowledge to help you make the pick for you, or someone special your mission will be accomplished in the best hands!
Just in time to alleviate time pressures!
Black Door Wine Company, free delivery within a 5 mile radius with the purchase of 6 bottles or more!
Wow, now easier, worry free delivery.
*************************************************
November 19, 2013
Jaillance Cuvée de l'Abbaye Brut Crémant de Bordeaux
If you love French sparkling wine but are turned off by the high price of Champagne, make Crémant your celebratory bubbly. Crémant is the name for the sparkling wine produced in France outside of the Champagne region. Made in the same method as Champagne but typically costing much less, Crémant is the perfect blend of the finesse and flavors you look for in a sparkling wine. The great thing about Crémant is that it is not limited to the three grapes of Champagne (Chardonnay, Pinot Noir and Pinot Meunier). Crémant is made from each region's native grapes, which can mean a wider variety of flavors than what you find in Champagne. For a wonderful taste of Crémant in general and Crémant de Bordeaux in particular, try the Jaillance Cuvée de l'Abbaye Brut, AOC Crémant de Bordeaux. Made entirely from Semillon grapes, this wine has mouth-filling fruit flavors that will make you a Crémant devotee. Semillon is one of the two main white wine grapes in Bordeaux, along with Sauvignon Blanc. The sparkling wine is produced by méthode Champenoise (also called the traditional method), with the second fermentation taking place in the bottle. The Cuvée de l'Abbaye is aged on the lees for 24 months. Right away you'll notice how pale the Jaillance Cuvée de l'Abbaye is — extremely light yellow, almost without any color. This seems in contrast with the round and fresh flavors you get in each sip. Ripe lemon, white grapefruit, white raspberries, almond and a touch of brioche are enhanced by small bubbles. Dry, crisp and elegant, the Jaillance Cuvée de l'Abbaye has all the desirable characteristics you look for in a brut sparkling wine. And of course will you need the real Champagne, we have a beautiful selection of small grower bottles as well.  And……………..bottles from our annual Champagne tasting. A bottle of the Jaillance Cuvée de l'Abbaye Brut Crémant de Bordeaux $16.00
*********************************************************
It's French Champagne season at Black Door Wine Company
$20 per person, $35 for couples Please join us on November 16, 2013 from 4:00 – 7:00pm in our tasting room for our annual Champagne tasting. We'll pop corks on more than $500.00 worth of Champagne bottles at our annual event. This is our most popular tasting of the year accompanied by petites bouchees to amuse your palette.
We represent the small grower Champagnes which are some of the very best, true Champagnes, very much terrior driven flavors, growers taking more time, attention to details that result in finer profiles, traditional practices Sans chemicals, family Champagne houses. Some making wines for 100-200 years!
***************************************************************************************
10/30/13 tasting this evening Maison Bleue Au Contraire Chardonnay Yakima Valley 2010 $20 Lightly aromatic with mineral, spice, crème fraiche, and yellow apple. Palate is full on the entry and then pulls back and continues with a leaner style with mineral notes accented by a lemony acidity. A long finish on another impressive wine from this emerging star. 100% Chardonnay. Aged in neutral French oak (50%) and stainless steel with partial malolactic fermentation (50%). 13.2% alcohol. 408 cases produced. As is the case usually we like to start with a white before dinner, and may continue with a white, however, being we need/want to taste red as well. Overall I think this wine leans toward old world style, meaning, maybe a more complex wine, with depth, not a big oaky type, elegance here is the word. Cheers
10/25/13 A rich, fleshy, layered red that has nice tannic grip and a pop of acidity lacing through the finish that will really work beautifully with grilled and roasted meats and veggies, or a long simmered bolognese. We paired with stovetop roasted chicken, kale salad. 62% sangiovese, 15% cabernet franc, 13% merlot, 10% cabernet sauvignon $21 Yes the label says Cab. Sav. however, different wine same label.   10/23/13 Emilio Moro Finca Resalso (100%) Tempranillo wine & Comfort Food Last nights dinner of sauteed thinly sliced russets with onion, red peppers, herbs, and olive oil. The wine? 2011 Emilio Moro Finca Resalso (100%) Tempranillo  
100% Tinto Fino, aged 4 months in French oak barrels. Finca Resalso is the name of the vineyard that was planted in 1933, the year of Emilio Moro's birth. It has cherry red color of good intensity and a rim with blue tones intrinsic to its youth. Clear, honest aromas with a predominance of red fruits, mulberry and blackberry. A very subtle background of oak and earthy minerals. Dark purple, intense, spice-accented aromas and flavors of cherry compote, cassis, with cola nuance building with air. Sappy, penetrating, with strong finishing cut and silky tannins. $17   90pts. international wine cellar         BDWC can find, order, any wine, anywhere in the region or World. From your favorite winery, that special bottle you had at the restaurant, and of course that special occasion! We are here to help, educate, find, plan a private tasting  or reserve our event room for your next meeting, office celebration, if it's wine, it's our business!   Burgundy, some say IT IS the essence of the french wine culture. However you may interpret these wines, they are luscious, seductive, a nectar to be enjoyed! And so it is …….. On to dinner this evening, we've opened a 2012 Domaine Michel-Macon Villages (100% Chardonnay grape grown in limestone/alkaline soils) $25.00 The Chef (Victoria) has put together a melange of sauteed veggies with spaghetti, garlic, olive oil and (shh) her secret spices.
Those of us who love white Burgundy and dread its expense, the Mâconnais offers an introduction at a much lower price point than what the Côte de Beaune, the heart of white Burgundy. If the Mâconnais is well beyond discovery, it's fair to say it is ready for rediscovery.
A quote I like from Kermit Lynch, importer of fine/great terrior driven wines: We ask: How about wines the rest of us can find (and afford) — any tips on tracking down good bottles? "Find a good merchant and let her/him pick out four or five bottles and then give the wines a chance. Try to be open-minded when you taste. A lot of people say, "I don't know much about wine, but I know what I like." Maybe you don'tknow what you like, because you just keep drinking the same style. The wine world is pretty vast and diverse, and it's not marriage. You don't have to be faithful to one style. So don't impose your comparatively limited experience on every wine you encounter. Try to understand wine styles you're not familiar with". Beautiful floral bouquet, white peach, honeysuckel, and maybe a faint vanilla note – And, of course, I'm here for you! David, BDWC Enjoying Now! 10/16/13
When Fine French 'Wine' is Cider
To anyone who thinks cider is just apple juice, Bordelet's handcrafted ciders are a revelation!
Eric Bordelet Ciders
The symphony of acidity, layers of complex apple flavors, carbonation, and aromas of apple and earth is conducted flawlessly by Bordelet, who finds balance among the chaos of acid levels, alcohol levels, carbonation and Sugar levels. Biodynamic, organic.
Not only delicious alone, cider goes well with anything you would have with a beer, wine, and is especially an exciting match with spicy foods that  otherwise is a challenge to pair with a beverage. Tasting at Black Door Wine Co: Saturday, October 19th Time: 4pm – 6pm Surprise your palette, change your mind! ______________________________________ October 5, 2103
What I'm drinking tonight
A Priorat is not what most people think of when they want a blended red wine, full bodied, a rich wine for a crisp fall evening, such as we are enjoying tonight in the Northwest! The winemaker, Alvaro Palacios blends half of his wine from local variety Samsó (a synonym for Carinena), 40% Garnacha and a 10% share between Cabernet Sauvignon and Syrah. The Camins del Priorat wine presents a classic weight, with velvety raspberry fruit and hints of spice and vanilla; the naturally ripe exuberance inherent in this region is tamed by this relatively 2010 mild vintage and the result is pleasingly and approachable. A bit of history: the wines of this remote and rugged region in Catalan is winning fans for its wines made primarily from old vine Garnacha. Primarily producing powerful red wines, which came to international attention in the 1990's, it was after producers arrived in the 70's believing in the regions promise that someting began to happen. These wines are the real thing characterised by its unique terrior of black slate and quartz soil known as licorella. The yields are low due to the difficult growing conditions of this soil and the elevations. Yet today, modern winemaking technique is the norm, to create fabulous terrior driven wine from Grenache and Carrigon with an introduction of Cabernet Savignon and Syrah.  This winemaker delivers great value for quality! My choice? Camins el Priorat (DOC), Alvaro Palacios (winemaker)

The lascivious 2010 Camins del Priorat is a blend of 35% Garnacha, 35% Samso, 20% Cabernet Sauvignon and 10% Syrah cropped at 20 hectoliters per hectare, to maintain a higher quality of the fruit. It has a very pure bouquet of lifted blackberry and cassis fruit, the French oak well-integrated. The palate is full-bodied with a soft, sensual entry. There is a lot of puppy fat here, low in acidity with a spicy, dense, warm spirituous finish.
Yep, that's what I'm drinking tonight with a fall salad inclusive of diced apples, kale, olive oil, chopped nuts and crumbled feta cheese, accompanied by a saute of veggies found at the local farmers market. $22
____________________
WINES FROM DIDIER DAGUENEAU
Didier Dagueneau was (until his sad, premature death in a microlite accident in 2008) one of the most spectacularly unconventional and innovative winemakers in the world. Dagueneau pushed the boundaries so far with Sauvignon Blanc that he stands dramatically apart from most producers in the region. He achieved unprecedented quality levels for Pouilly-Fumé wines and consequently they fetch unprecedented prices. The domaine follows biodynamic principles and the complexity in the wines is achieved with extremely low yields, by pruning severely and even cluster thinning. Winemaking and élevage is not systematic and varies according to the characteristics of each vintage, anything from stainless steel to oak barrels are used but the key is lees contact. Malolactic fermentation is never carried out no matter how acidic the vintage. Now the domaine is run by Didier's son, Louis-Benjamin, and his first vintage showed he will be perfectly capable of following in his father's footsteps.
Didier Dagueneau used to be known as the "wild man of Pouilly", not only for his hirsute appearance (long curly hair and a dramatic beard) but also for his ideas. He was recognised as a brilliant winemaker and the best producer in the appelation. The motorcycling fanatic Didier still raised the hackles of his Pouilly neighbours by accusing them of bottling wine cocktails – a mixture of wine and sugar. He crusaded to redeem the reputation of Pouilly Fume $95 by slashing yields in half and tilling his vineyards with horses instead of using a tractor. The secret of this perfectionist's success lied in his scrupulous attention to detail at every stage of the winemaking process, from vineyard management (biodynamic since 1993) to the cellar, where work proceeds in textbook fashion. Unlike many winemakers in the Pouilly Fumé and Sancerre regions, Dagueneau did not start his career in wine and raced sidecars in his youth. He said it was only after 'two falls in quick succession' that he went into winemaking. Dagueneau estate makes four different dry white wines, all Pouilly Fumes. The basic wine is the En Chailloux, a blend from several vineyards, which is softer and easier drinking. Next up in quality is Buisson Renard, more flinty in style, but still round, and more ageworthy. The remaining two wines are both superstars from single vineyards, and are barrel fermented. Both come from slate soils with one being called Silex $145, and the other known as Pur Sang  $115(the french for thoroughbred – a reference to the horse tilling). The iconoclastic Loire Valley winemaker Didier Dagueneau died in an ultra-light aircraft accident at the tragically early age of 52. Didier Dagueneau's son Louis-Benjamin (whose name now appears on the wine labels) is now in charge of the domaine. These wines are collectable, very little is made due to strict, small parcels of vineyards. A delightfully, pungently intense bouquet of hedge flowers and resinous herbs rises from the glass of Dagueneau 2011 Blanc Fume de Pouilly Silex, anticipating the bittersweet presence of herbal essences and inner-mouth floral perfume that are allied to nut and citrus oils on a dense, subtly oleaginous palate. This finishes with an authoritative sense of grip and I expect it will not only perform well for a decade but benefit from being left alone for the first several years in bottle. From the Domaine's oldest vines, up to 80 years old, planted in tightly-packed soil made up of larger flints and clay. The flaghip wine of the Domaine combining richness, breadth and power with minerality and freshness. 92-93+ points, Wine Advocate, June 2012 $145Because of the rarity of these wines, no case discount applies.  "quite possibly a once-in-a-lifetime opportunity….."
On Saturday, September 28, 2013 from 4-6pm Black Door Wine Company will warmly taste ten Cru Beaujolais wines!
This is Red Fruit. The Gamay grape expresses so well with a monthfeel of elegance, finesse and a fleshy and a silky body. Stunning!
Think, full-bodied stamped with kirsch, spice and mignonette aromas-flavors that are fruity and floral. This line up is about forthright red fruit with plum. Note there are a few mineral notes faithfully reproducing the Gamay bouquet. With its supple tannins, iris and is delicate and nervy as long as it is allowed to age for its elegance on the palate to develop, aromas of strawberry, violet, cinnamon, red currant, and peony, releasing fleshy, well-built flavours that are discreetly spicy and a good length in the mouth- raspberry, red currant, sloe, blackberry and blackcurrant are clothed in spicy and mineral notes. A Subtle balance of red fruit that is fresh and structured with refined tannins-floral aromas of peony and rose nuanced with spicy and woody notes as the wine ages. A generous, well-built wine to cellar- ripe stone fruit aromas including cherry, peach, apricot and plum- Well-built, this rich powerful and fleshy wine and expresses all the characteristics of its terroir-from deep ruby to dark garnet, this wine gives off floral and fruity aromas of violet and cherry in its first years moving on to iris, spice and ripe fruit up to overblown rose, truffle, musk and even venison. Well-built and complex We had to share….
Let's see, my people — which of my people? I'm in several groups. I'm in the group of the piano players. I'm in the group of the listeners. I'm in the group of people who have a general appreciation of music. I'm in the group of those who aspire to be dilettantes. I'm in the group of — what? Oh yeah, those who appreciate Beaujolais.

— Duke Ellington, musician and composer
________________________________
Grapes:

Serve At:

57°-63° F

Region:
This wine from Ribera Del Duero is a blend of 90% Tinto Fino (Tempranillo) and 10% Cabernet Sauvignon, 2008,  from vines aged between 10 and 20 years. Fruit is sourced from 30 different plots on the estate all of which are farmed organically. Following fermentation the wine was aged in oak barrels for 7 months prior to bottling without filtration. Ripe dusty fruit and minerality from the limestone soil make this a great food wine for grilled meats and spicy foods like Paella. Torremilanos is comprised of 200 hectares of vineyards. The majority of the vineyards are Tinto Fino (Tempranillo) with a few small plantings of Cabernet Sauvignon, Pinot Noir and Petit Verdot. The land has been known in Ribera del Duero for its quality and has been planted with vines for more than 100 years. The vineyards are on slopes that are predominantly north facing,and lie just south of the Duero River. 80 miles north of Madrid, Ribera del Duero is a region of beautiful landscape, extreme temperatures, and harsh intensity. While only being a D.O. since 1982, family run bodegas have been growing grapes and making wine for many generations. The region's combination of unique terroir, specific micro climates, and years of study and technique of their native grape Tempranillo, make for suburb and complex wines. $10

This is a beautiful, low-alcohol northern Piedmont wine, and the savvy red wine, Il Chiosso's founders, Marco Arlunni and Carlo Cambieri, tend their vineyards biodynamically to emphasize purity and honesty in their wines. The duo's Rossomarconi hails from 100% Nebbiolo vinified for freshness and immediate accessibility. The wine shows an old-school transparent, orange-rimmed garnet hue followed by spicy, floral sweet cherry fruit and deep limestone soil tones. On the palate, the wine's red cherry fruit fuses with textbook Nebbiolo suggestions of dried rose petals, tarry earth, blonde tobacco and spicy salumi. Lip-smacking tannins emerge on the Rossomarconi's long leather and dried rose petal, cinnamon finish and then yield to an undercurrent of limestone minerals. This is a natural pair for braised beef, hare, pork, roast lamb, grilled eggplant, salumi and medium firm cheeses. A sensational value! $10
The fave vine fruit of the Greeks
Our Greek wine tasting was hit last Saturday! Black Door Wine Company was thrilled to offer this tasting in the South Sound, second only to an event tasting earlier this year in Seattle!
We owe so much to the Greek civilization for wine as we know it today. In ancient Greece the culture of wine was esteemed with Dionyssus who was one of the most worshiped of the Greek Gods inspiring artists, philosophers and the lives of everyday people. Were the ancient Greeks on to something? After all, when you enjoy wine with friends,  we become more creative and philosophical? Or, so it goes.
Thank you Tacoma Wine Lovers!

Our line up……..
Robola – Grown most notably in the mountainous vineyards of Cephalonia, Santorini, off the north coast of Crete. The noble Robola grapes yield distinguished wines with citrus and peach aromas mixed with smoky, mineral hints and a long lemony aftertaste. Robola's fine character assisted in its qualification as the AOC Robola of Cephalonia. The wine compliments seafood.
$18 And the red, Xinomavro [ Ksee no' ma vro ] 2007 Makedonikos
The predominant grape variety in Macedonia (north of Greece) is a native red called Xinomavro, (meaning "acid-black"). The wines made from Xinomavro are known for their superb aging potential and their rich tannic character. Their complex aromas combine such red fruits as gooseberry with hints of olives, spices and dried tomatoes, earthy scents, cherry flavors in full abundance in this semi dry wine. Hints of vanilla, berries form a beautiful balance with moderate tannins. Often times compared to Nebbiolo and has a great aging potential.
$23
Black Door Wine Company in the Northwest Military News (formerly the Volcano)

BLACK DOOR WINE COMPANY 3906 N. 34th St., Tacoma, online What's instantly apparently after meeting owners Victoria Johnson and David Lower behind their black door in Tacoma's Proctor District is they know their wines. Point at a bottle at the two can give deep background on the wine, its journey from harvest to decanter and the hobbies of its winemaker. Seriously. Johnson and Lower are storytellers in the most delicious way. As for Cabernet Day, they chose the 2006 Boudreaux Cellers Cab – a Cabernet made by rock climber and camping enthusiast Rob Newsom who takes advantage of gravity when creating his wines – a story we'll leave for Johnson and Lower. The 2006 Cab can be equated to drinking a blackberry cobbler next to a campfire. Yum. $4

Irony 2009 Merlot
August 27,2013
Tasting Notes
Irony Napa Valley Merlot displays rich, ripe plums, black cherries and blueberries with a backbone of moderate tannins and a lush, lingering finish. Enjoy this wine with grilled chicken, baked ham, a classic cheeseburger or a rich minestrone soup. $19

A very classic Oregon Pinot Noir. I had the pleasure of meeting the winemaker, Maggie Harrison while at Pinot Camp in late June this year, as well as tasting her Chardonnay she makes now. The new vintage Chardonnay is wonderful, however, not yet available.
2010 Botanical, of course, is a special occasion wine ($80) so, on my birthday this week Victoria purchased the 2010 Botanical that we sipped with a dinner of fresh wild prawns hot and wonderful off the outdoor firepit. Oh, my what a lovely Pinot Noir, opening on all levels from the fruity nose to the tasty mouth feel, full of lush wine that grabs your tate buds and makes you glad your drinking this outstanding Oregon Pinot Noir of elegance, refinement.
Just Another Cotes Du Jura
Chardonnay this time; Château d'Arlay Côtes du Jura Blanc 2005:  Two-thirds Chardonnay; one-third Savagnin.  The addition of the Savagnin adds an intriguing dimension to the wine; it is aged four years on its lees in a large vat for additional complexity. This will appeal to many more people than the Vin Jaune.
 $29

Chateau D'Arlay
Ce Vin De L'an 2005 Cotes Du Jura comte A. de Laguiche, Propietaire
We've sourced the traditional and idiosyncratic Vin Jaune 2005 for our customers at BDWC. In the mouth, there are notes of sherry, hazel and brazil nuts and lemon oil on the nose. There is a slightly viscous texture in the mouth offering notes of maripan and lemon peel – the nutty, sherry quality could be off putting to some. The blanc is preferred with tuna steak, and a fascinating departure from the usual white table wine!
The Jura is a major wine region located on the slopes of the Jura mountains in eastern France, between Burgundy and Switzerland. Those mountains also give their name to the Jurassic period, from which the area's limestone soil dates. Once an important region, the Jura fell into obscurity — blessedly so, as this has allowed it to retain its traditions and continue to produce its singular local wines. The region is dominated by small, family-owned estates, and this agrarian culture has helped preserve the region's viticultural heritage.
The Jura is best known for its vin jaune, released under the appellations of L'Etoile and Chateau Chalon. This is a wine made from the Savagnin variety. It is fermented slowly and aged in small oak casks that are not topped up, so that the wine matures "sous voile" — under a veil of active yeast similar to sherry's flor. The result is a unique, oxidative wine released seven years after the harvest — and not to be drunk for at least another ten. It is bottled in special 62-cl "clavelins," the size of which is meant to account for evaporation during aging. Though it is sometimes compared to sherry because both are oxidative wines, vin jaune is really its own thing. It is best decanted and drunk with the region's Comte cheese. Two other Jura specialties are vin de paille, or "straw wine," and Macvin du Jura. The former is an exquisite dessert wine made from both red and white grapes that are dried on straw mats. The latter is a strange, complex, rather savory vin de liqueur. A Marc du Jura is also made in small quantities. The reds of the Jura, from Pinot Noir, Poulsard (Ploussard), or Trousseau, are usually matured in tank and bottled while fresh and young. Poulsard makes delicate reds that are often a sunset-pink color bordering on rose. Trousseau is more robust and can have a slightly wild flavor. The white grapes Chardonnay and Savagnin are often raised in barrel and held back for a few years. These are powerful, intense wines often (though not always) made in a slightly oxidative style. Young-vines Chardonnay (and sometimes Savagnin) is often made into a tasty sparkling wine. The Jura is becoming increasingly trendy, but since the wines can be so different from those produced elsewhere, it is worth doing a bit of reading and coming in with an open mind.

Terra Pintada Monica Di Sardegna 2011
The importer Cantina del Bovale recently released their Sardinian 2011 to the US market, introducing a Monica and Bovale varietal blend to be enjoyed now. These wines tends to be simple and accessible made to be consumed young, no doubt, with ascetic qualities best matched with fish and shellfish, or  a greater Sardinian feast. The Bovale shows notes of tobacco, stepping forward as a late summer match to roasted chicken, or marinated vegetables.   
 $16.00
Gros & Tollot Minervois "La Ciaude" 2009

 This is Gros' "great terroir" wine, one that benefits from a unique vein      of limestone la Burgundy.  "La Ciaude" is a blend of Grenache, Syrah and Carignan—and the Carignan vines are 104 years old.  Mineral energy combines effortlessly with an extraordinary rich and layered mouthfeel—this wine has volume and depth, and fantastic concentration without sacrificing balance.  Vines face south and as such get the full power of the sun, adding to the wine's saturated, sultry personality. Not an easy task this far south in France and not ordinary wine makers with plenty of experience to the north in Rhone, that shines in their wines.
"Some very interesting and delicious wines"
Yes, you read correct, a 1998 Verdicchio aged in mainly concrete and some stainless. No, you would NEVER guess this wine in a blind tasting. This wine is the perfect showcase for the incredible texture and weight of the Verdicchio grape. It is almost impossible to believe that there is no wood treatment. Wine maker Natalino took a risk with this wine when he decided in 1997 to vinify separately the top selection of fruit from Vigna delle Oche, one or two bunches from each plant, and then leave the wine on it's lee's for 110 months, and another 10 in bottle. We are so glad he did. This wine is only produced in the best years, currently we have the 1998 and then we won't see it again until the 2001 is ready! and only 200 cases produced.
$65  
These rare and cultish wines and only here at Black Door Wine Company
$32


Jean-Christophe Garnier La Roche (a clos actually) 2009. Chenin. Soil : shist. Zero SO2 added. Vinified in casks. Compared with the  Dark color, like if it was oxidized. Lightly perly on the tongue, Freshness, nice balance
**************************
Dominio De Valdelacasa 2008
From the small Toro region in northern Spain, A 100% Tempranillo- AGED FOR 6 MONTHS IN FRENCH OAK. VERY EXPRESSIVE AND INTENSE NOSE WITH AROMAS OF RED FRUIT, LAVENDER AND LICORICE AMONG OTHERS. $20.00 BDWC notes 7/16 This Dominio De Valdelacasa 2008 paired with fresh organic corn tortillias topped with stewed tomatoes, a crowning cracked egg with a nice medium cheddar cheese. Sauteed farmers squash and elephant garlic was the side. This beautiful aged Tempranillo toned the garlic a bit and enhanced the richness of the red sauces, just a great pairing. This summer red delivers spicy red fruit aromas and flavors.  
Black Door Wine Company
Week of July 8, 2012
2010 Mas d'en Compte "Black Slate" Porrera Priorat
93 points Robert Parker's Wine Advocate
 From the Black Slate project of Eric Solomon, Philippe Cambie and, in this case, producer Joan Sangenis, the 2010 Black Slate Porrera, a blend of 60% Grenache (60+ years of age) and 40% Carignan (80-year-old vines), is another stunning value from Priorat. Consumers can thank the horrible Spanish economy for the low price of such a high quality wine from this prestigious appellation. Sweet raspberry and black cherry fruit notes intermixed with notions of crushed rocks, spring flowers and a slate-like component are broad, savory, impressively pure, dense and full. This round, generous, opulent red can be consumed over the next decade. 
 (6/ 2012) $20.00 BDWC Notes 7/8/13 The 2010 Black Slate Porrera, simply said, was a luscious pairing with dinner last night. This 2012 Porerra Priorat shows deep red color and a jewel box nose (think rubies!) We paired this beauty with seared cod – line caught, to be ecologically minded – married with Sicilian style green olives and diced onions. Organic German butter provided just the smoothness and richness that matched the Black Slate Porrera. A dash of basalmic vinegar (aged grape juice!) – no pepper, no salt, a splash of water only. The meal wouldn't have shined without uncorking this wine. The 2010 Black Slate Porrera is a rich and beautiful summer red wine with weight and freshness! Highly recommended by BDWC.  *************************